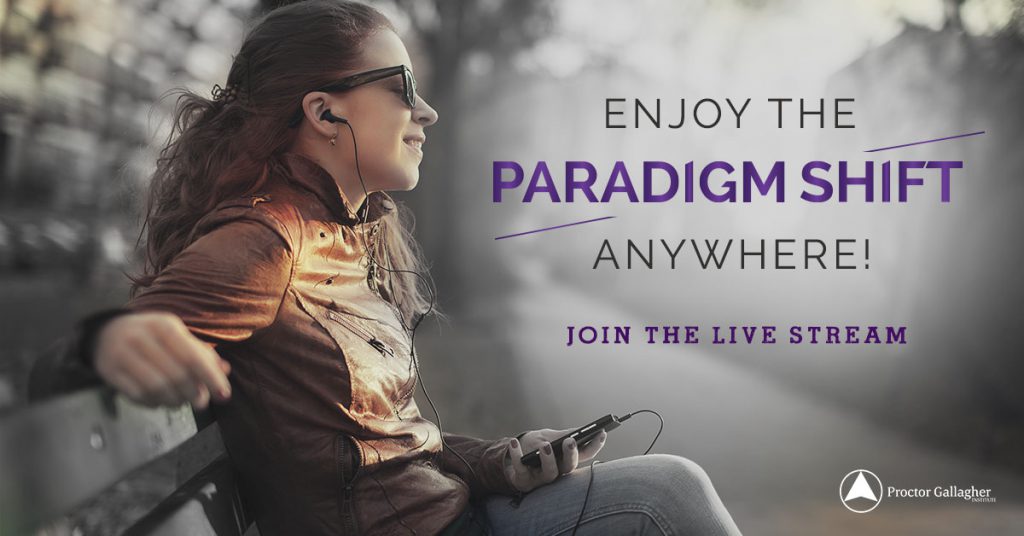 Recently I live streamed a weekend workshop called 'Paradigm Shift' put on by the Proctor Gallagher Institute. The key speaker was Bob Proctor who is a powerful teacher with years of experience that can not be questioned. You may know him from the film , " The Secret. The Law of Attraction."
My life is changing as we speak as a result of wheels that were put in motion that weekend. I am developing an art of living. Most of us don't have goals or intention. A big reason we fail to do better or accomplish what we want is our personal failure to keep our goals a daily part of our thinking. The "someday I am going to…… ", kind of thinking keeps things in the someday part of our future.
Bob Proctor takes little credit for his advice and draws heavily on the masters who have developed his habits. " Habits" in a word was the crux of the weekend and the cornerstone for a life full of promise and hope. We have picked up habits from family , friends and other influences. That collection of habits and views is our paradigm. A paradigm is a tightly bound rope that encircles our life and makes it very difficult to get out of. Your paradigm fights you and resists change. Your paradigm can act like comfort food but there is nothing comfortable about suspended animation.
Way beyond saying , "I have a positive view", your paradigm began its conception way before your parents met. Much of your emotional memory resides in your DNA along with your looks and laugh and smile. You get more than you can see passed down to you. We think a certain way because our parents did. We have a culture within our own head that needs examination.
The nature of change, slow and steady or fast forward?
A song lyric that hits a chord with me goes like this : " Change can come on tiptoe. Love it where it starts. It resides and often hides deep within our hearts. And just as pebbles make a mountain, raindrops make a sea. One day at a time change begins with you and me. "
Slow is best to develop change within yourself. The other way we change is by a sudden and often traumatic event in our lives that we may not have foreseen. Loss of job, relationship or more. We get thrown into a whirlwind of drama. You are in control when you are tackling one or two habits at a time.
The weekend was full of more than lectures. Exercises and inner awakening made everyday an instant value. Mr. Proctor said he did not like to teach the course that often because people did not like doing the work required. Much like an actor who has rehearsed to the point that their performance seems flawless, so too will repetition of our thinking develop that same finesse and results.
For more than a month now I have unfailingly followed most of my regime. One exercise in particular is to hand write in your left hand (if right handed) a particular mantra type paragraph. This I do at least twice a day. Often more. On a mental level it is awkward. Physically I can now print more legibly with my left than previously but I am aware of how tense my muscles get out of my comfort zone. Spiritually the repetition of the paragraph has put me at a new level of awareness.
Three Things I Got Out Of The Course
The success I have felt with my exercises is measurable to me.
First , I have so much more confidence that I am in control.
Second, I am so much more aware of what my brain is doing. It is very much like a child. You have to take control of where time is being spent. Am I looking backwards, am I holding myself back because of an opinion , am I reacting rather than responding? Wherever you are right now is not your destination.
Third and most important is that I found a love for myself somehow. I improve for me. I change for me.
With so much information in the course , there were too many ideas and tips that I forgot as I was attending livestream. A second viewing filled in even more and I am more enthused about my ability to make a difference in my own life. Benjamin Franklin once said , " If you empty your purse into your head , no man can take it from you. " I recommend this course.
I will be posting more on my personal development using these powerful Spiritual Arts 'neuro-tools'. Have a look at the Proctor Gallagher Institute. If you are ready for a change. Positive change is waiting.
Positive Changes came to my health after trying the WheatFree Concept of Eating with Dr. William Davis.  Have a look at this recipe book and many others for some great alternatives to grain.
I will be blogging about my experience in the days to come.